Two of the world's largest companies reported their second-quarter earnings on Thursday after the markets closed. It's been a volatile week for Wall Street as the Fitch credit downgrade and rising bond yields have weighed on stocks. The S&P 500 closed lower for the third consecutive day as investors awaited the key reports. Here's what went down on Thursday for AAPL and AMZN earnings.
Amazon (AMZN) Flexes Its Muscle With Monster Quarter
It has been a tumultuous tenure thus far for Amazon (NASDAQ: AMZN) CEO Andy Jassy. The company has had several disappointing quarters since he came into the corner office. That all changed on Thursday when Amazon topped Wall Street estimates on both the top and bottom lines in a major way.
Earnings per share $0.65 vs estimates of $0.35
Revenue $134.4 billion vs estimates of $131.5 billion
AWS revenue is $22.1 billion vs estimates of $21.8 billion
For those keeping track at home, that is an 11% year-over-year revenue growth for AWS, one metric that is being closely monitored by Wall Street.
Amazon also issued optimistic guidance for the rest of 2023. This has been in line with most other tech companies that have guided toward a surprisingly strong second half. Amazon's actual call will be held later this afternoon. Shares of AMZN are trading higher by nearly 7.5% as of the time of this writing.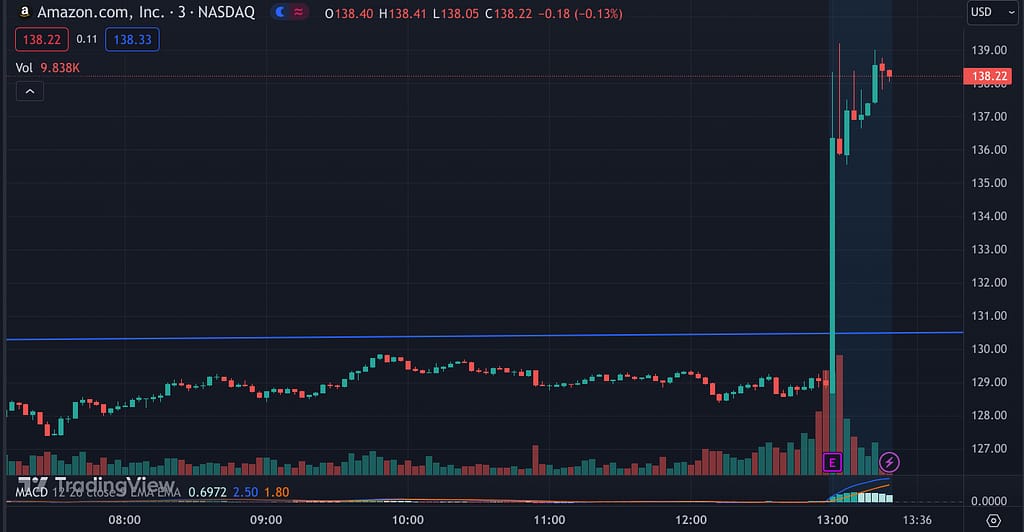 Apple (AAPL) Earnings Come in as Expected with 8% Services Growth
Things were not as rosy over at Apple's (NASDAQ: AAPL) headquarters on Thursday. While the company still managed to beat Wall Street expectations, it was hardly a blowout quarter like Amazon's. Here are the numbers:
Earnings per share of $1.26 vs estimates of $1.19
Revenue of $81.80 billion vs estimates of $81.69 billion
Gross margin of 44.5% vs estimates of 44.2%
Notably, the company saw a major decline in hardware sales with iPhone, iPad, and Macbook revenue all coming in lower than expected. As the company continues to transition to a software and services provider, one bright spot was the 8% year-over-year growth in services revenue.
Some other highlights include a planned event in mid-September for the release of the brand-new iPhone 15 model. Apple still hasn't provided any guidance since 2020, but did hint at a consumer recovery in the fourth quarter of 2023. Shares of AAPL are down slightly following the report.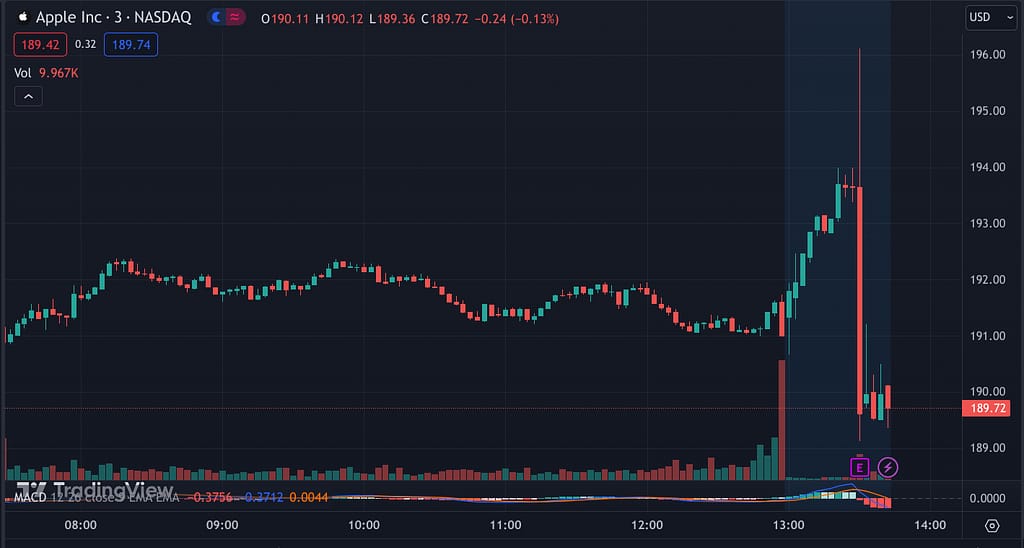 AAPL and AMZN Earnings: What's Next for the Markets?
Despite all of the negativity circulating around Wall Street, it seems that big tech earnings have saved the day yet again. Amazon joins Alphabet (NASDAQ: GOOGL) and Meta Platforms (NASDAQ: META) with standout quarters, while Apple and Microsoft (NASDAQ: MSFT) were less than stellar.
We could see a strong close to the week for the market after a volatile few days. Amazon calls are certainly printing right now and for the most part, selling Apple puts are likely safe as well. These were two of the more popular options strategies heading into Thursday.
One thing to note: If Amazon mentions AI as a tailwind during their call later we could see a massive surge on Friday.
Stay Savvy!