The day that everyone has had marked on their calendars is finally here. After the markets closed on Wednesday, NVIDIA (NASDAQ: NVDA) reported its earnings for the quarter. The company has become the measuring stick for the recent AI bullishness that has catapulted tech stocks higher. Despite the recent pullback in growth stocks, NVIDIA has continued to show strength relative to its peers. NVIDIA's stock has received a number of analyst upgrades this week in anticipation of Wednesday's earnings. The stock's option chain has been highly volatile as well, with put/call prices indicating a move of about 8.5% in either direction.
Everyone and their dog are saying that NVIDIA's quarter is already priced to perfection. Shares are already up by nearly 230% in 2023. It appears that investors are already pricing in several years of AI advancements. Could a less-than-perfect quarter from NVIDIA cause stocks to sell off heading into the much anticipated Jackson Hole Symposium for the Fed?
NVIDIA Earnings: NVDA Stock Soars Higher After Topping Wall Street Estimates
Surprise, surprise. NVIDIA blew out estimates once again as the company continues to be a runaway freight train. Here are the numbers for NVIDIA's colossal quarter:
Earnings of $2.70 per share vs. estimates of $2.09 per share
Revenue of $13.5 billion vs. estimates of $11.22 billion
Third Quarter revenue estimate of $16 billion vs. estimates of $12.61 billion
$25 billion stock buyback program announced
Could this earnings report pull the stock market out of its seasonal slumber? So far so good as the stock is up nearly 7.0% after hours and hit $500 per share. The real test will be how NVIDIA opens the market tomorrow ahead of the Jackson Hole Symposium.
NVDA Stock Outlook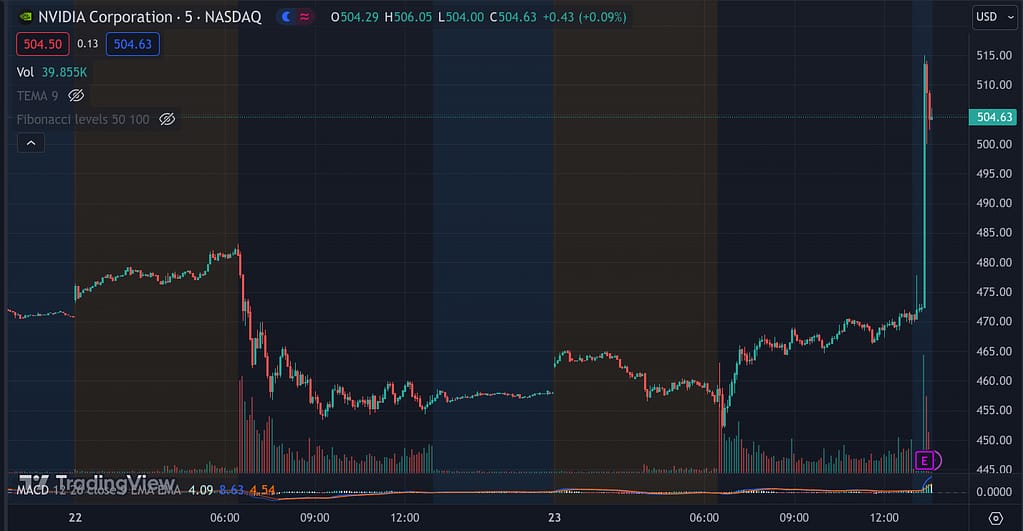 So what do we do with NVDA stock now? If you are bullish on AI and want to remain long, then there is no better place to invest than NVIDIA, Microsoft (NASDAQ: MSFT), and Tesla (NASDAQ: TSLA). If you think there will be more volatility ahead then it might be time to take any profits earned this year and bank them in anticipation of a further pullback. Given NVIDIA's stock chart, it would not be surprising if it were one of the first stocks to give back those gains.
NVIDIA's results fortify the bull case of the AI revolution and we could see a tech surge into September. If you haven't bought NVIDIA yet, now is probably not the time. Look for sympathy plays like AMD (NASDAQ: AMD), Super Micro Computer Inc (NASDAQ: SMCI), and even Palantir (NYSE: PLTR).