AAPL Earnings: It seems like each quarter the entire market awaits the earnings results from Apple (NASDAQ: AAPL). You know the saying "Apple is the market"? That phrase certainly applies to how Apple's stock usually dictates market sentiment.
Apple has found itself under pressure in recent quarters. Earnings have been good but not great. There has been growing criticism of a business model that relies mostly on hardware sales. Apple also has a potentially unhealthy reliance on China for both consumer sales and manufacturing. But you know what they say about the market? Anything that is known, is already priced into a stock.
Let's take a look and see how Apple did this quarter.
AAPL Earnings Snapshot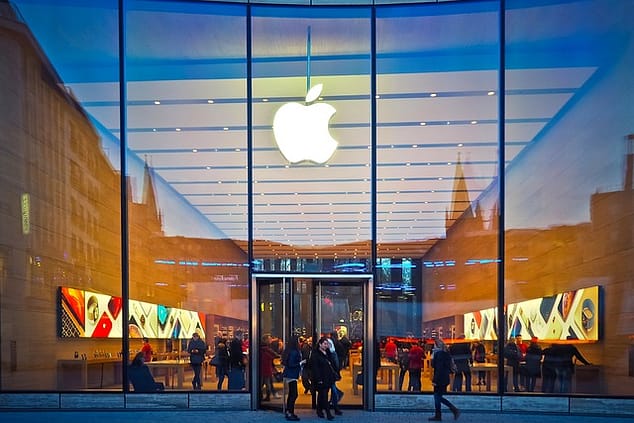 It was widely expected that Apple would report its fourth consecutive quarter of declining revenue. Many will be eyeing a return to growth for the company as the economy attempts to rebound. High-interest rates and inflation have created a weak consumer environment where luxury products haven't been in high demand.
This quarter also includes about one week of iPhone 15 sales. The next quarter will see more of an impact from Apple's latest flagship product launch as well as the holiday boost depending on how strong retail sentiment is.
Here are the numbers from Apple's report:
Q3 Earnings came in at $1.46 vs. estimates of $1.39
Q3 Revenue came in at $89.5 vs. estimates of $89.28
iPhone revenue came in at $43.81 billion vs estimates of $43.81 billion
Services revenue came in at $22.31 billion vs estimates of $21.35 billion
Gross margin came in at 45.2% vs estimates of 44.5%
Net income for the quarter came in at $22.96 billion compared to $20.72 billion from 2022. There was also a less than 1.0% decline sequentially from the previous quarter.
AAPL Stock Outlook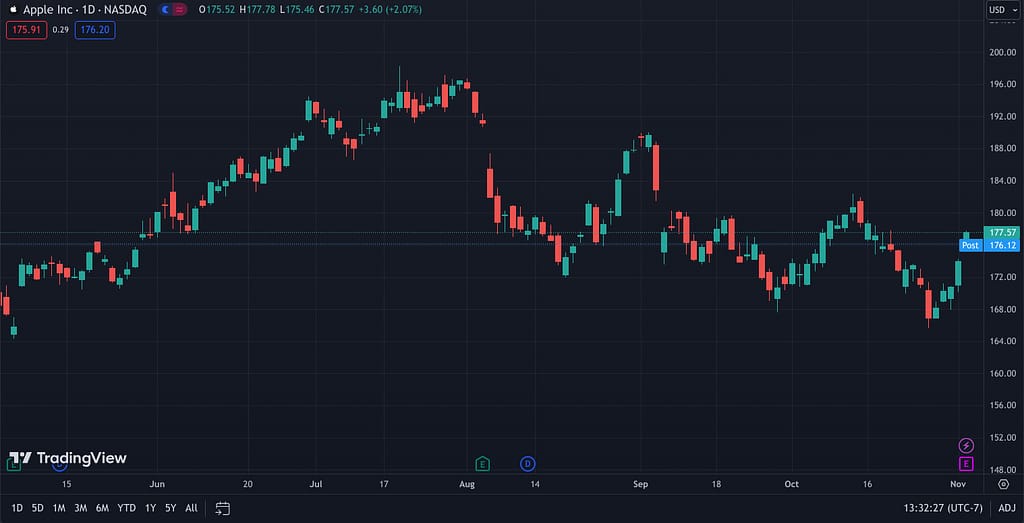 As expected, Apple reported its fourth straight quarter of declining sales. It wasn't a terrible quarter for Apple but it does lend more to the narrative that the stock is a vulnerable leader. This is especially true when you compare it to the strong quarters from Microsoft (NASDAQ: MSFT), Amazon (NASDAQ: AMZN), and Meta Platforms (NASDAQ: META).
Check Out Our Review of Amazon's Recent Blowout Quarter!
Some optimism came from CEO Tim Cook when he suggested that iPhone 15 sales are doing much better than iPhone 14 sales at this time last year. As well, further expansion into India should reap rewards for Apple's stock in 2024 and beyond.
Mac sales were still down considerably on a year-over-year basis and iPad sales slid as well. With Apple's recent announcement of the new M3 chip, it anticipates a return to positive sales growth in the coming quarters.
Investors must be pleased with the continued growth of the services segment which showed a 16% year-over-year growth in revenue. Cook cited that every major service that Apple provides hit new record highs during the quarter.
Wall Street is expecting forward guidance of about $122.98 billion in revenue for the fourth quarter. This would imply that analysts expect Apple to return to revenue growth during the all-important holiday season.
So are we bullish on Apple stock? The stock is down by about 1.0% in extended trading as of the time of this writing. Historically, Apple's stock hasn't moved much on earnings. We're not surprised that this tepid report hasn't had much impact, especially after the stock has already gained more than 6.0% during this week's rally.
Technically speaking, Apple might be finding some support at its 50-day moving average but a drop below that could mean a revisit to its 200-day which is sitting right above $171. Next quarter should be a crucial one for Apple so look for the stock to trade relatively in range. The upside is certainly there if the markets continue this seasonal rally into the end of the year.