TSLA Stock News: Shares of electric vehicle maker Tesla (NASDAQ: TSLA) looks to be extending their losses on Monday. The popular stock is on track for its sixth consecutive losing session. After an extended rally at the end of March, the second quarter has seen a sharp reversal in Tesla's price. As of the time of this writing, shares are down by about 9% over the past five trading days.
The decline has pushed Tesla below its key 50-day and 200-day moving averages. With its first quarter earnings report right around the corner, we can expect to see further volatility in Tesla's price. There is also plenty of bearish sentiment making the rounds on social media. TSLA has a history of being traded on market sentiment, so the FUD is clearly weighing on the recent price action.
Looking to Invest in the S&P 500? Check out our VFV ETF Review (2023): The Only ETF You Will Need
Tesla Slashes Prices for the Fifth Time This Year
This is one of the main reasons why Tesla bears are out in full force. Last week, Tesla announced further price cuts to its vehicles by between 2% and 6%. It is the fifth such price cut since the start of 2023 for the company and many are concerned that its industry-leading margins will be affected.
Price cuts also typically indicate a fall in demand for products. Now, this is likely due to the current macroeconomic environment especially as fears of an impending recession continue to spook investors. But many are also pointing at an organic decline in demand as Tesla's competitors continue to make up ground on the industry leader.
Tesla also reported its quarterly and March deliveries recently. While the company saw a 36% year-over-year rise in deliveries from the first quarter of 2022, it was only a 4% sequential growth from the previous quarter. All of these figures lead to suggestions that Tesla is fast losing its global market share. It also could suggest that Tesla's explosive growth could be plateauing. Investors are looking for new vehicle models including the long-awaited Cybertruck and the lower-priced, mass-market model.
Tesla Announces New Battery Megafactory in Shanghai
Tesla continues to invest in China as it also announced a new battery Megafactory in Shanghai. This new facility will produce 10,000 Megapacks per year, which should provide a boost to Tesla's energy segment. Megapack batteries are not used for vehicles, rather they are used for energy storage to stabilize power grids.
Investors have been looking for ways in which Tesla can grow its underutilized energy division. With other automakers catching up to Tesla, the company could look to expand its other segments. Construction is set to begin in the third quarter of this year, with the doors opening in mid-2024.
Read our article: What are 0DTE Options? And How They Are Changing the Stock Market?
TSLA Stock News and Outlook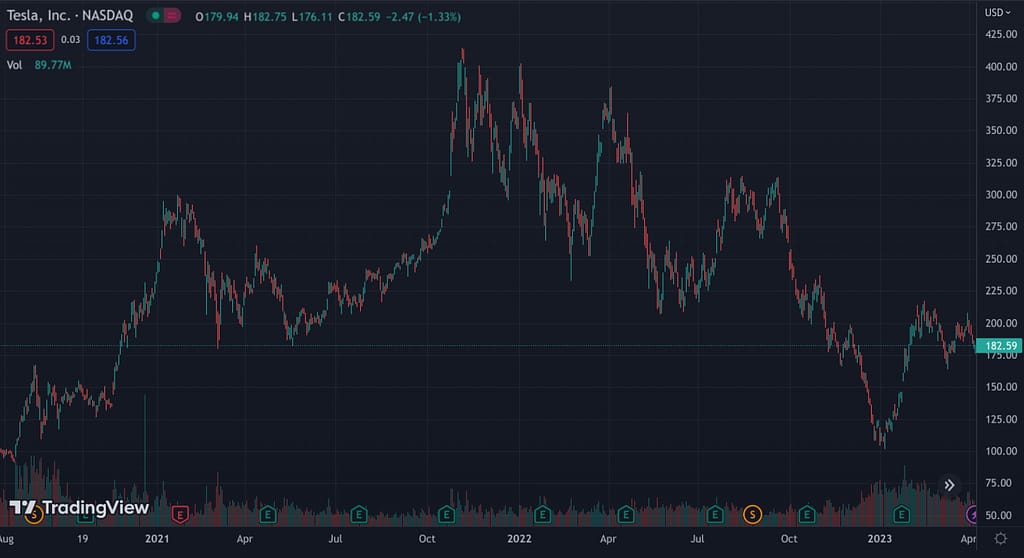 Source: TradingView.com Tesla (TSLA) 1-day Stock Chart
So, what do we do with Tesla stock? Options volatility has been through the roof as traders attempt to take positions on both sides. With Tesla's earnings report scheduled for April 19th, it could be a risky play with TSLA known for making big moves in either direction.
As for Tesla's outlook, it could just be a case of a cluster of bad news. Bulls will tell you that deliveries are still up in the most difficult environment the company has faced. Bears will point to declining growth and a distracted CEO. As always, the truth likely lies somewhere in the middle.