Shares of Tesla fell by 6.32% during Monday's trading session.
The stock received an earnings estimate downgrade from a Wall Street analyst.
Stocks started the pivotal week on the back foot.
TSLA Stock News: Shares of electric vehicle leader Tesla (NASDAQ: TSLA) fell by 6.32% on Monday. Stocks started the week in the red as all three major averages fell following Friday's rally. Tesla itself gained more than 30% last week after reporting better-than-expected revenues and earnings for the fourth quarter of 2022.
Berenberg Lowers Earnings Estimates by 25%
Analysts from Berenberg dropped their earnings estimates for the company by 25% as a result of Tesla's recent price drops. While this might seem like a negative, the firm also upgraded its rating on the stock from Hold to Buy. How do we read between the lines? Berenberg likely believes that Tesla's price drops will have an impact on its bottom line, but continued growth for the brand should help support the growth stock's price.
There was a far more negative outlook from JPMorgan which reiterated its Underweight (Sell) rating on the stock. The analyst targeted Tesla's declining margins and stated that these would continue to weigh on Tesla's execution. The note also pointed out that the stock has risen too high too fast, and that the valuations will catch up to the stock as early as the first quarter of 2023. JPMorgan has a $120 price target for Tesla which would be a more than 30% decline from Monday's closing price.
Tesla Stock Forecast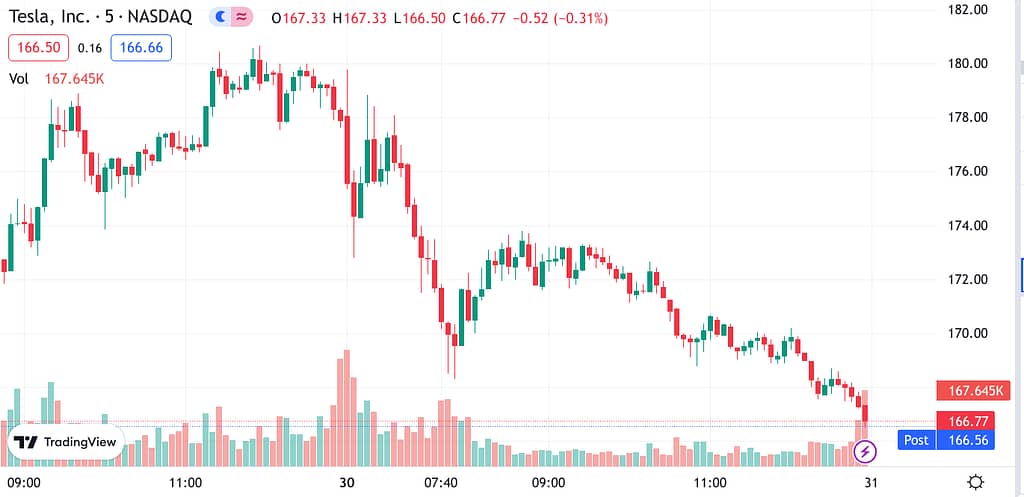 One last thing weighing on Tesla: its rivals are also engaging in these price wars. Ford (NYSE: F) announced it would be lowering the MSRP on the Mustang Mach-E. The company admitted it might not make a profit on each vehicle, but it is realizing that to compete with Tesla it will need to lower its prices for the short term. Shares of Ford fell by nearly 3.0% on Monday.
After an aggressive spike in stock price, a cooling-off period for Tesla stock isn't surprising. This is a pivotal week for the market with FOMC meeting minutes and major earnings from big tech stocks ahead.