Tesla (NASDAQ: TSLA) is always one of the most anticipated earnings calls of the season. It often sets the tone for the NASDAQ and is seen as a major market-moving event. On Wednesday, those Tesla earnings dropped for the third quarter after the markets closed.
The stock has been under tremendous pressure in recent weeks capped off with a -12% day on Wednesday. Missed delivery figures for the third quarter and lower anticipated gross margins are some of the things weighing on the stock.
Shareholders will be looking for confirmation of Cybertruck deliveries later this year. As well, they will be watching to see if Tesla provides any indication of an end to gross margin declines and price slashing.
Tesla Earnings Summary
The initial figures weren't great from Tesla:
3Q Revenue $23.4 billion vs estimates of $24.06 billion
3Q Earnings $0.66 per share vs estimates of $0.74 per share
Free cash flow of $848 million vs estimates of $2.59 billion
Gross margins 17.9% vs estimates of 18.0%
For those keeping score that's 0 for 4 for Tesla's big metrics. With continued geopolitical tensions in China and the Middle East, could we continue to see Tesla's stock slide lower?
The company did confirm that Cybertruck deliveries are still on track by the end of the year. Tesla GigaFactories have already produced 125,000 Cybertrucks with a planned November launch.
It also mentioned that its Tesla Bot is currently learning simple tasks via AI training. Many believe this could be a massive tailwind for Tesla in the future as the company continues to expand beyond just EVs.
TSLA Stock Outlook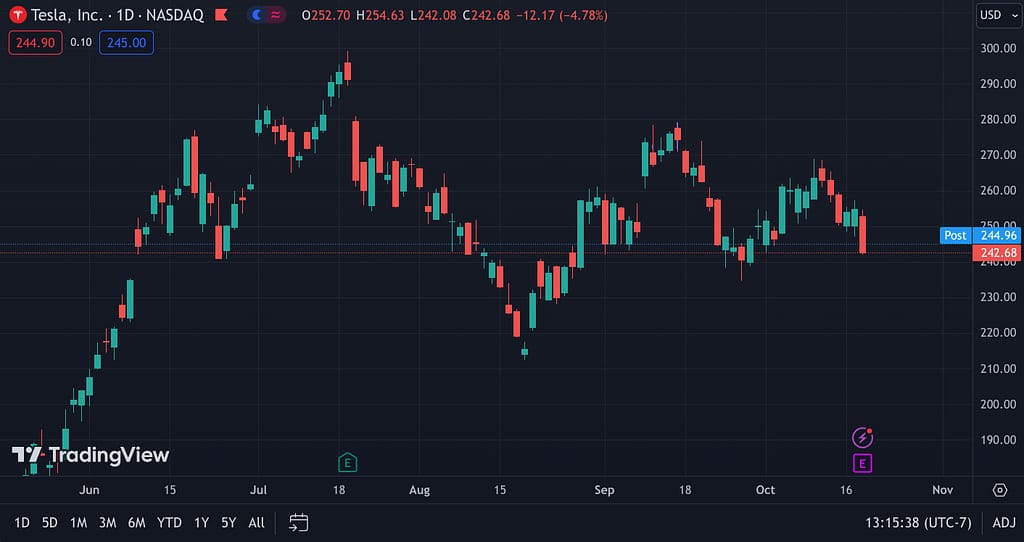 Everyone and their dog was watching that pennant take place on Tesla's chart. On the daily, TSLA broke through to the downside on Wednesday but so far the stock is up slightly in after-hours trading. Could the stock reclaim the support level? We'll have to wait to see what happens as we head into October OPEX on Friday.
Tesla did reaffirm its production guidance for the year despite the lag in Q3. In total, Tesla says it is confident in the 1.8 million vehicle production numbers it previously quoted.
Recent options activity has shown bullish movement beneath the surface. Selling near-the-money puts and opening bullish call buys into 2024 reaffirms that institutions are still confident in Tesla's performance. Tesla's opening price tomorrow will likely be determined by Elon's call which is scheduled for later in the day. Are you bullish or bearish on Tesla's stock moving forward?