It wasn't just Tesla (NASDAQ: TSLA) reporting earnings after the markets closed on Wednesday. Streaming giant Netflix (NASDAQ: NFLX) also reported for the third quarter, as big tech earnings season kicks off with a bang.
Tesla's numbers came out with a lot to be desired from investors. The company missed estimates for revenue, earnings, gross margin, and free cash flow in Q3. Despite this, the stock is up slightly in extended trading as Tesla announced that Cybertruck deliveries should commence in November. Read our full recap of Tesla's Earnings here.
NFLX Earnings: Subscriber Growth and Strong Earnings in Q3
Netflix posted some positive numbers for the third quarter and the stock's price action backs this up. For the quarter, Netflix reported:
Q3 Revenue of $8.54 billion vs estimates of $8.54 billion
Q3 Earnings of $3.73 per share vs estimates of $3.49 per share
Total memberships expected of 247.15 million vs estimates of 243.88 million expected
It was a strong quarter for Netflix even after many believed the success story was fading. Increased competition from the likes of Disney (NYSE: DIS) hasn't really slowed Netflix down much at all recently.
On top of that, the new tier-based subscription system and cracking down on password-sharing seem to be paying dividends for the top and bottom lines so far. Sign-ups for its Ad-supported tier rose by 70% sequentially from Q2. Netflix also announced raising its subscription prices in some regions like the US and France.
Netflix also provided some optimistic guidance for the fourth quarter, estimating that revenue will grow by 11% to hit $8.69 billion. This was slightly below Wall Street's guidance estimates of $8.77 billion. The company did provide upbeat full-year guidance for 2024 coming in at the top of the range for both profitability (20%) and operating margins (22% to 23%).
NFLX Stock Outlook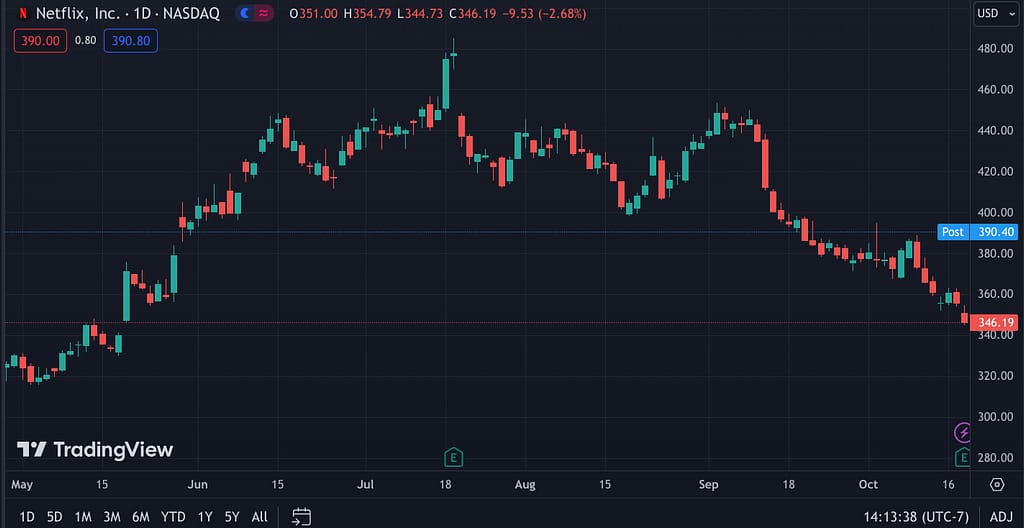 It's been a trying quarter for Netflix's stock, even if the numbers came in better than expected. The chart shows a strong downtrend from last quarter's report.
Is Netflix stock a buy here? There hasn't been much in terms of institutional options flow for Netflix which likely suggests that nobody really knew what to expect here. The report was great and the continued growth in subscribers despite not putting out any new content from its flagship properties is also a bullish sign.
Heading into 2024, it appears that Netflix's decision to make ad-supported tiers and limit password-sharing is working. The company's continued expansion into international markets is also a positive that shouldn't be ignored. It will be interesting to see how the recent agreement with SAG writers will affect its margins as Netflix agreed to pay higher wages and higher royalties for streaming popularity.
Overall, we're neutral on Netflix but at these prices, the risk-reward to the upside is likely higher than betting on the stock to continue to fall.