TSLA Stock News: Shares of Tesla (NASDAQ: TSLA) closed the session down about 0.71% ahead of second-quarter earnings after the bell. Tesla's stock has been on a massive bull run since January, gaining nearly 170% since the start of the year. On Wednesday, the bulls and bears played tug of war with the battleground stock ahead of the company's key earnings report. Tesla earnings are always seen as a bellwether report for both the tech and automotive industries.
It was a solid quarter for Tesla after it reported a record delivery figure of 466,140 vehicles. Tesla also reported a record production number of 479,700 electric vehicles, a number that continues to climb each quarter. Although these numbers are great, investors will be keeping a close eye on Tesla's margins during their call. Tesla has lowered the prices of its vehicles in multiple markets around the world. This has led to what many believe will be a much lower level of profitability.
Tesla has also captured a near monopoly in North America with its Supercharger network. In the past few months, Tesla has agreed to partnerships with General Motors (NYSE: GM), Ford (NYSE: F), Rivian (NASDAQ: RIVN), and Volvo, just to name a few. Finally, earlier this week a well-timed photo of the first produced Cybertruck was released by the company. After four years, the polarizing truck is finally ready for mass production, much to the relief of Tesla shareholders.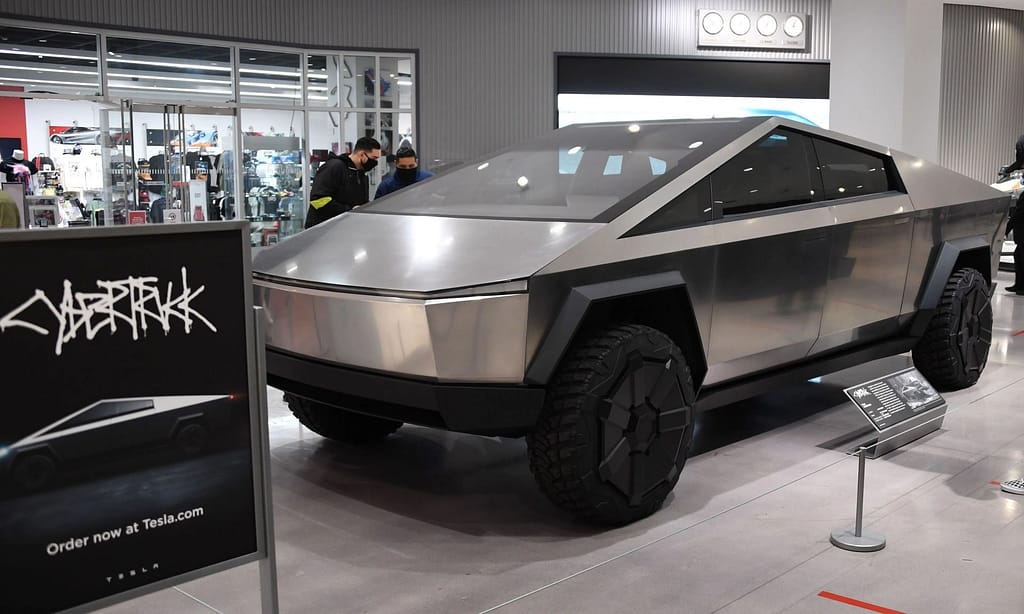 Tesla Earnings Are In
To nobody's surprise, Tesla topped Wall Street estimates for the second quarter. Here are the numbers:
2Q revenue of $24.93 billion vs expectations of $24.47 billion
2Q earnings of $0.91 per share vs expectations of $0.82 per share
GAAP Net Income of $2.70 billion
As always, the rest of the figures will be released during the earnings call which is scheduled for later in the day. How does this compare to last year? In the second quarter of 2022, Tesla reported $16.93 billion in revenue and $2.27 billion in net income.
Tesla (TSLA) Stock Forecast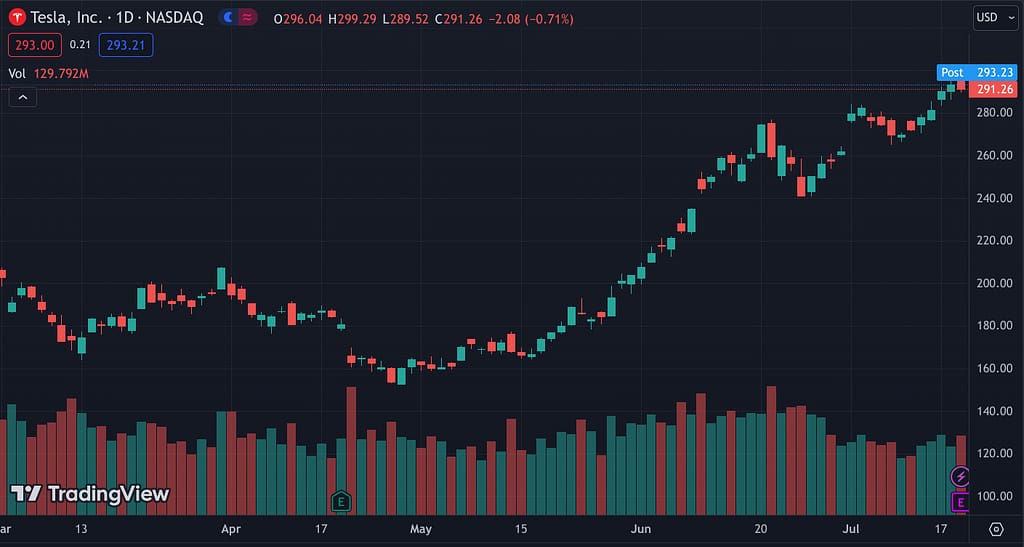 Source: TradingView.com
As you can see from the chart, there hasn't been much cooling off for Tesla's stock. So far in extended trading, the stock has been surprisingly flat. Options prices were factoring in a move of about 7.0% in either direction. We could certainly see a larger move during the earnings call which will provide a clearer picture for the quarter.
Still, all signs are that we are in a bull market, or at least, a bullish market with tech stocks leading the way. The problem with shorting or playing a pull-back for Tesla is that it is so close to its 52-week high price of $314.67. In a market with the forthy bullish sentiment, these price levels tend to act like magnets for stocks. This is especially true for stocks with the following that Tesla has. We have seen a remarkably bullish sentiment in Tesla's short-term call interest which tends to mean that institutions believe the stock will continue to rise.
Keep an eye on how the stock performs. If there is a pullback following today's earnings, see if whales come in to buy the dip. We have some notable gaps that need to be filled at some significant price levels. These include $263, $235, and even one down at $193. Remember, stocks almost always re-fill these gaps on their charts. For now, the path with the least resistance seems to be to the 52-week high price.
Stay Savvy!