FRC Stock News: Despite some of the largest companies in the world reporting their earnings this week, the market is once again buzzing about First Republic Bank (NYSE: FRC). The regional bank is once again in the headlines as its stock hit freefall on Tuesday. This sell-off continued into Wednesday's session and shares of FRC are now trading at just over $5.00 per share. So what is going on with FRC Stock? Here's what you need to know.
First Republic Bank announced its first-quarter earnings on Tuesday. The company actually topped Wall Street estimates for earnings in the quarter, but that was far from what was on investors' minds. First Republic Bank reported that customers had made over $100 billion in withdrawals during the first quarter. The market has taken a cautious tone during Wednesday trading after the government has not shown it is not willing to support the bank.
Despite impressive quarterly beats from both Microsoft (NASDAQ: MSFT) and Alphabet (NASDAQ: GOOGL), stocks were trading lower overall. This marks three straight days of losses for the markets as the looming banking crisis and another rate hike in May weigh on investors.
GOOGL Stock News: Our Breakdown of Alphabet's Q1 Earnings Beat
FRC Stock News and Outlook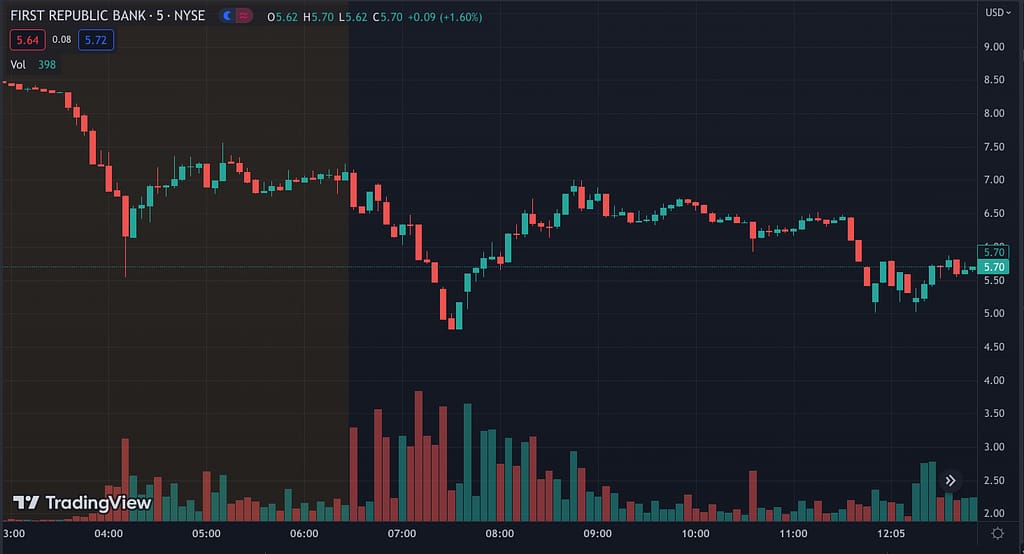 Are you feeling frisky? Options traders have been trading FRC stock like it is a meme stock recently. Our two cents? Steer clear because this stock is either going to zero or the company is going to get acquired. There are much better options to trade right now, but risky plays like this are best left to the boys and girls at WallStreetBets.