FCNCA Stock News: More turbulence in the US banking industry on Monday as First Citizens Bank (NASDAQ: FCNCA) jumped higher by more than 50% during intraday trading. What sent this North Carolina-based regional bank to new all-time high prices?
On Monday, it was announced that First Citizens Bank is acquiring Silicon Valley Bank. Investors will remember the debacle a couple of weeks ago when SIVB stock plummeted and regulators seized the bank. Silicon Valley's collapse was felt around the world. It sent shock waves through the banking industry in the US. It was also one of the catalysts for the meltdown of the Swiss bank Credit Suisse (NYSE: CS). This led Credit Suisse to be acquired by UBS (NYSE: UBS) shortly after that.
How Much Did First Citizens Bank Pay for Silicon Valley Bank?
Pennies on the dollar is an understatement. While the deal is advertised as $500 million, there are some more nuances in the details. First Citizens Bank will also acquire $72 billion in SIVB assets for a price of just $16.5 billion. $90 billion of assets and securities will remain with the FDIC in receivership for disposition.
The move sent other regional banks higher during Monday's session. First Republic Bank (NYSE: FRC) was up more than 10% and PacWest Bancorp (NASDAQ: PACW) was up by 9% during the morning. The regional banking sector in the US remains a volatile one and one that is probably best to stay away from for the time being.
FCNCA Stock News and Analaysis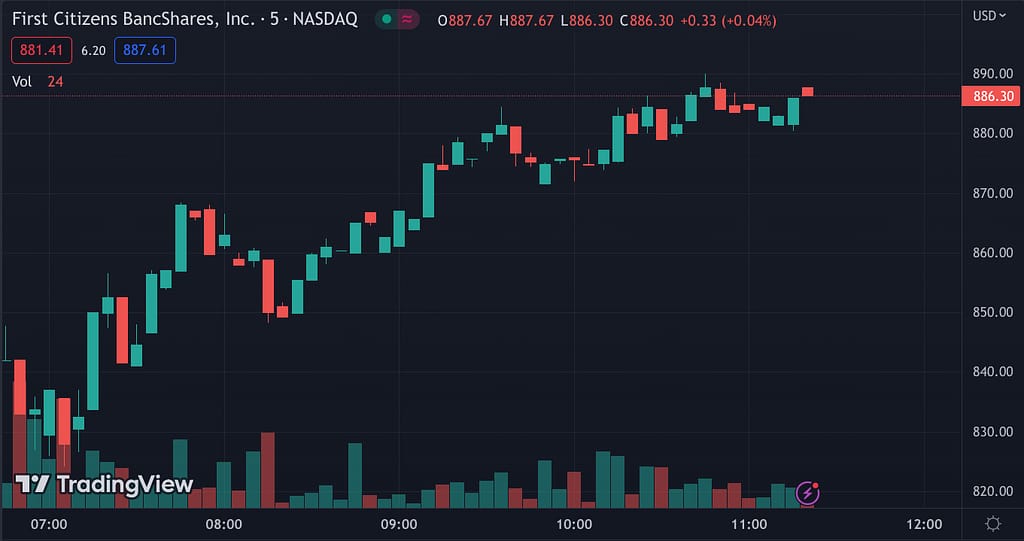 It is difficult to look at a stock that has gained more than 50% in a single session as one to buy. So what should you do with FCNCA stock? Is the company worth 50% more today than it was on Friday? Probably not.
Sometimes stock news is just news and there is not any analysis needed. If you were lucky enough to be an FCNCA shareholder before Monday, then congratulations on the big gains. For anyone else, this is likely going to be a volatile stock in the short term. If you have a higher risk tolerance you can consider playing some options, but for most investors, it is likely a stay away for now.