COIN Stock News: Shares of Coinbase (NASDAQ: COIN) were trading lower for the second straight day on Tuesday. The reason? The US Securities and Exchange Commission (SEC) served Coinbase with a lawsuit. It was the second straight day of SEC lawsuits after the government agency served Binance and its founder Changpeng Zhao, better known as CZ, on Monday. The SEC alleged 13 charges against Binance and CZ, as the regulator takes aim at the US crypto industry.
For Coinbase, it is alleged that its exchange and staking services are in direct contravention of US Securities law. The lawsuit itself was long expected by many in the industry as the US government continues to fight crypto companies that operate in the country.
Surprisingly, the crypto markets rallied after the second consecutive day of SEC lawsuits. Bitcoin and Ethereum rose by about 5.6% and 4.4% respectively over the past 24 hours. These gains wiped out most of the losses that were incurred on Monday following the initial lawsuit against Binance.
COIN Stock News and Outlook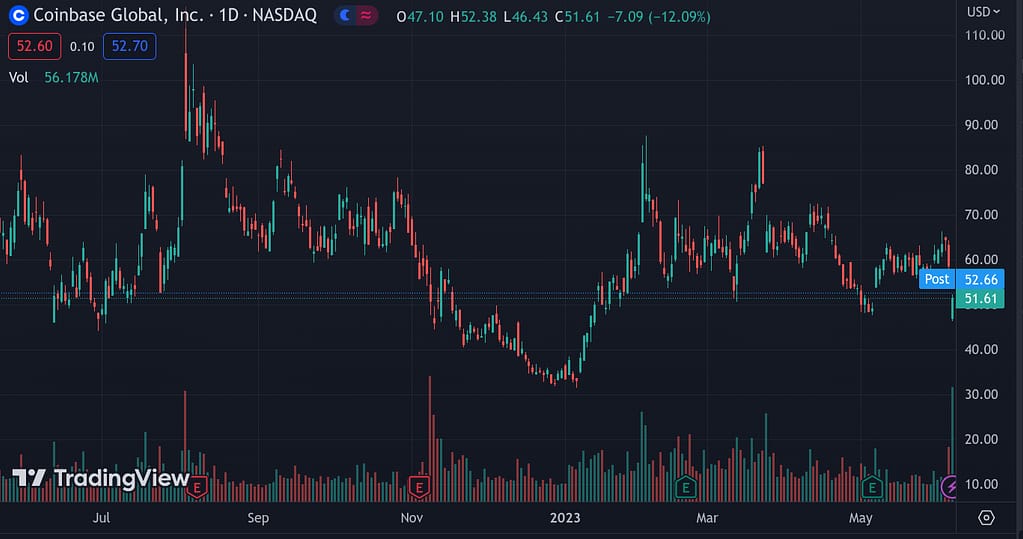 Source: TradingView.com
The outlook for Coinbase stock is bleak right now, especially with the SEC targeting its primary exchange. Staking rewards, its Prime institutional exchange product, and its self-custody wallet are also being targeted by the SEC.
Investors are wondering what to do with Coinbase stock now. Shares of COIN are still up by more than 50% in 2023. One can make the argument that the pressure is off now that the lawsuit has finally arrived. On Tuesday, Coinbase held the $50.00 level of support well during the session. If that level of support breaks it will find its next level at about $48.00.
Is Coinbase stock a buy? You could certainly consider selling some cash-secured puts against it after the big losses this week. Coinbase has been a nice stock to play in the Wheel Strategy for options traders. For now, let the dust settle and see what Coinbase's official response is to the charges.